Service and Work Experience Hours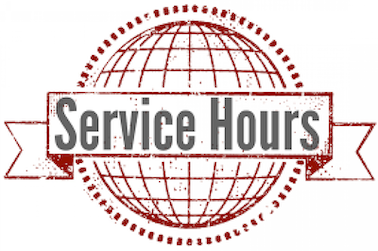 ***PLEASE NOTE:
-entering service learning hours for MYP and School Awards is different as we strugle through the pandemic. MYP service learning hours are to be uploaded through MyBlueprint; service hours for School Awards are entered through the link at the bottom of this page.
Instructions for accessing and uploading files onto my blueprint can be found at the bottom of this page (MyBlueprint Service Reflections PDF).
Service Learning at Hugh Boyd:
The International Baccalaureate Middle Years Program promotes student involvement in the community through service. Students learn the importance of action and its impact on local, national, and global communities in the classroom, and will expand their experience of community through personal service. In doing so, students are encouraged to be caring, concerned, responsible citizens of their local community and the world at large. We encourage students to consider their own interests to determine what type of service best suits them as they complete their service hours in the local environment, and consider what they can do to contribute to the global community.  Service as action can occur in the classroom and/or in school or local settings.
Why Service Learning?
The power of one.  Each one of us can help to make the world a better place.

Personal responsibility.  Each one of us has a responsibility to the local and global community.

Caring.  Through service to the community, we can help build more caring human beings.

Exposure to new fields and skills.  Through community service, students can learn about future career possibilities and learn new skills, such as working as a team, being a leader, organizing one's time, and setting goals.

Connect learning in the classroom to meaningful action to make changes outside the classroom.
Community & Service is not…
Family chores

Anything you get paid for

Attendance or participation at meetings, clubs or teams
Students are provided opportunities to be involved in service at the school level, and are encouraged to listen to school announcements for service opportunities.  Students are also able to participate in service outside of the school. Students are required to complete a total of 10 hours in each year of the programme, for a total of 30 hours.  
To Record MYP Service Learning Hours…
For more information on Service Learning hours for MYP, please click the link below:
https://boyd.sd38.bc.ca/ib-middle-years-programme/service-learning-and-action
For further instructions, please see the powerpoint slide attached to this page.
Setting Up your MyBlueprint Account
Visit www.myblueprint.ca/sd38

Select your school (Boyd) from the drop down menu and click create account

When prompted to select your account type, click student, select your grade and click continue

Enter your Education Number (PEN) and Personal Info and click continue

Enter account info, and agree to the terms of use and private policy. Click Continue
Forgot your password? You can reset your password by clicking on the "forgot your password" link
Forgot your email?  Ask Ms. Tong to reset your email
Opportunities provided at Boyd Include:
Scorekeeping and refereeing sports games-see Mr. Dengler

Interact Club-see Mr. Aura

Student Council-see Mr. Mamonluk

Green Thumbers-see Ms. Tong

Unity Club-see Ms. Scott

Library Monitors-see Ms. Moor or Ms. Leung

And many more!
Outside the school:
Elementary schools

West Richmond Community Centre

See Bulletin Board outside the Library Learning Commons for updated opportunities
School Service awards will NOT be offered this year, because there have not been enough opportunities for students to accumulate Service hours due to the pandemic.
Work Experience Hours are also an important part of the Graduation program.  All students need to accumulate 30 hours of work experience (these can be paid or volunteer hours) after the end of their Grade 10 year. These hours can be accumulated any way the student wishes, but they are part of the Career Education program that all students must take (this program includes the Career Life Education 10 class that students took in Grade 10-where they would have been told about the need to get these work experience hours) as well as the new Career-Life Connections & Capstone 12 course that students need to complete in their Grade 12 year.  It is critical that students keep track of and submit a form demonstarting a minimum of 30 hours of work experience (paid or volunteer) between the summer of their Grade 10 year and June of their Grade 12 year.